Potatoes are something I assumed I could not grow with my limited space. I always thought that one needed a large open dirt area, or long trenches in a huge garden, in order to grow much. However, I'm not the only one with a small growing space, and after I looked around a bit, I began to see just how many methods there are.
This is a picture of the simple potato towers I made; I will show the the step-by-step further down in the post.
Last year, we tried simply growing some potatoes in a pot. I found this big old pot on clearance for 3 bucks, and thought, sure, why not.
We did manage to get a tiny harvest, which we put into soup, and enjoyed very much
(click here to see)
.
As I started planning my garden this spring, this diagram got my attention as it started making the rounds on the internet, and it gave me a new interest in trying potatoes in small spaces. I am sure you have seen this floating around on FaceBook:
Though I love the idea (it looks so cool, doesn't it?), the fact is, this diagram intimidated me. I am not the greatest with tools, and I hate buying lots of extra materials. I am a kind of 'lazy, use what's laying around' kind of girl, so I put this diagram into the category of 'maybe someday, but this year I'm going with simple'.
In the process of planning out my method, I ran into
this post over at Grow A Good Life
, where several different methods are pictured. Reading it gave me more confidence to go ahead and try out my idea. Be sure to go check it out; what an excellent article showcasing several creative potato-growing ideas.
As I kept brainstorming, I discovered that three of my gardening friends are experimenting with container potatoes, too, but with slightly different methods than what I chose. I'm excited to see how we all fare, and will be posting updates on each of us!
The Experiments I'm Following Along With My Own:
1.
Amber at
Pixie's Pocket
is growing in bags
(click here)
. I love the simplicity of her idea!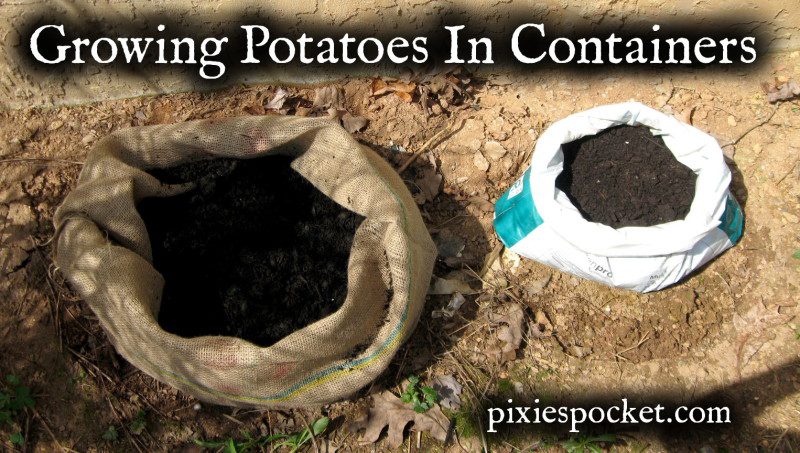 2.
Shane at
Weekend Vegetable Gardening and Homsteading
is using a barrel as a container for his potatoes (shown is the bottom of the barrel, with drainage holes).
3.
My pals at the
Young Urban Homesteaders
plan to build up this tower over the summer, made simply from repurposed fallen logs. They will add a new level of logs, compost and straw as the potatoes grow. You can see there are three sections, growing three types of potatoes.
Speaking of the Young Urban Homesteaders--when I went to see their potato patch, they gave me my own little collection of seed potatoes, a gift that touched me greatly, and it was the final impetus:
Yes, I Must Try To Grow Potatoes.
These beautiful baby potatoes were now counting on me!
La Ratte, Purple Peruvian, and Red Thumb
fingerling seed potatoes
4.
My Wire Towers: After googling for a little while and considering my space, I decided to go with a tower made of wire fencing. I had already planned to buy some of this fencing for other projects, so I knew none of the roll would go to waste, even if I ditched the tower idea next year.
Below are the beginning photos of my three potato towers. I'll post updates as the season progresses!
These babies have been waiting awhile for their home.
You can almost hear them crying "PLEASE PLANT US!"


Got a roll of this from the garden center.


Unrolled it on the ground to the size I wanted. I went with
a diameter of 18 inches.
Tin Snips --one of my gardening friends :)
Zipties...these have to be my best gardening friends!
I attached the cage in three spots; top, middle, bottom
Sharp ends sticking out, but don't worry...
This fencing actually bends pretty easy, so you can tuck the end in
and make it less scary.



I ziptied each cage to the chain link fence. One tie at the top seemed to be enough.


A layer of straw at the bottom, then a layer of compost



The towers are tall enough that I had to use a shovel to help me spread compost and straw around.
Getting the seed potatoes tucked in was tricky, but manageable
Voila, three towers, three varieties of potatoes.
I laid the potatoes on the compost in a circle a couple inches from the edge.
I put 6 in each tower.



I put a bit more compost on top of the potatoes, another layer of straw, and then watered the towers.
The two straw bales next to my three towers are for another experiment: I'll be growing bush beans in those! :)
And now the towers stand proudly next to the fence, waiting to support (hopefully) thriving plants! As the plants poke through the straw, I will keep adding layers of soil/straw, making sure to allow enough greens at the top to gather sunlight.
I'll post updates on my potato experiment, and those of my friends, as the summer goes on!
*Update Number One-June 14
*