I have a confession to make. This adorable pumpkin patch, with 4 round, tiny, orange pumpkins? Cute, right? And so perfectly coincidental that 4 pumpkins grew when we have exactly FOUR preschool kids enrolled right now, right?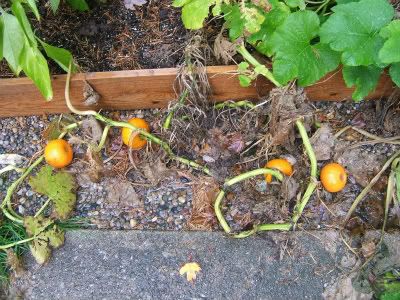 You have to know where this is going. YES, I
snuck
in a couple pumpkins! Now, two of them are officially, ligitimately OUR pumpkins,
grown from last year's jack-o-lanterns
. But, we needed four. There really is no good way to divide 2 tiny, adorable pumpkins among 4 children (unless making soup, but these pumpkins were not destined for soup...they were destined to go home with each child). I wanted each preschooler to have a hand in harvesting the 'fruit' of our summer's effort in the garden...especially the pumpkins, since they brought so much excitement
as we watched them grow.
On one of my grocery trips, I just so happened to find two little pumpkins that I really could not distinguish from those that we grew. I snuck the imposters in, and made a plan with the preschoolers that we were going on a little walk to our 'pumpkin patch'. I was worried that they would notice (since we've been monitoring those babies for months)...but we were all caught up in the exictement and no one said a word...except WOW! YAY! AWESOME! What is it with kids and pumpkin patches anyway? Oh wait a minute...that was ME yelling WOW! It was contagious; the kids easily caught on.
Here we are on our 'journey' to the pumkpin patch, on a slightly drizzly day. I could not have asked for more animated, excited reactions as we finally cut the pumpkins from their vine.