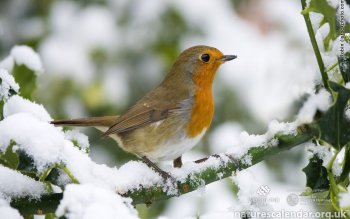 Did you Know? Robins are usually solitary and territorial. But in harsh winter weather, you'll be more likely to see groups of them searching for food together. Keep your birdfeeders well stocked!
Today school has been closed due to another snowstorm, which means we will have a busy day. Since we are a childcare home, days off school means more kiddos need a place to go...like to our place! We will need to keep busy and here is just one project we'll be doing.
Let me start by saying; the past week or so we have noticed that we can still hear the birds chirping when we venture outside. I love watching the kids' heads turn suddenly and their eyes widen when they assumed no animals were out in the cold, and then they suddenly hear birds. With snow covering every inch of the landscape, outdoor noises seem stark and magnified; birdsongs that ordinarily blend into the background have come alive. We don't just hear the cold-hardy birds, we have seen them quite a bit, too. We watched at least a dozen robins in a leafless tree yesterday as we waited in carline for J and E at preschool. The tiny creatures are out there battling the cold for their constant search of food.
We all decided, unanimously, that our feathered friends might welcome a little extra help! We have made birdseed ornaments before using a 'recipe' I had found online. Just a few weeks ago Taste of Home magazine published an even simpler recipe. The kids all adore making these. I like this particular recipe because one of my daycare kiddos is allergic to peanuts, therefore preventing us from making any kind of bird snack that includes peanut butter (which is most of them!). The ornaments hold together well and because they can be any shape the kids want, we have fun experimenting with more than just the typical 'winter' shapes; today, I thing I will suggest butterflies and dinosaurs!
The most fun is hanging them up in the bare branches, and then watching them disappear, little by little. Now, we don't know for sure that the squirrels aren't stealing the treats. But last winter, we saw birds hovering near our ornaments often, and we were certain that they got at least some of the gift themselves. :) We will continue our birdseed ornament tradition today!
Scroll on down to the end of the post for our recipe. If you are enjoying a snow day, maybe give these a try! If you don't have gelatin on hand,
I found a recipe here
that excludes it.
Take turns stirring up the birdseed mixture!
Choose your cookie cutters and lay them out on a cookie sheet, lightly greased.
Make sure you have a capable supervisor. :)
Fill the cookie cutters as full as you can and really pack them down, using your hands or the bottom of a cup.
Notice that filling the ornaments can be messy, and a lot of seeds will fall to the sides.
These scraps will be great for spreading out on the ground when you hang your ornaments outside.
They look so pretty when they are finished.
As high as Noah can reach, which isn't very high ;)
We love how they look hanging up! The birds even sometimes snatch up the yarn for their nests. Bonus gift!
Bird Seed Ornaments
3/4 cup flour
1/2 cup water
1 envelope unflavored gelatin
3 tbsp. corn syrup
4 cups birdseed
molds (muffin tin, cookie cutters, etc.)
nonstick spray
drinking straw
waxed paper
ribbon/twine/yarn
1:

Combine the flour, water, gelatin and corn syrup in a large mixing bowl. Stir until well-combined.
2:

Add the birdseed to the mixture, stir until well coated.



3:

Spray your mold(s) with cooking spray, and spoon birdseed mixture into each mold. Use the bottom of a measuring cup to pack it down, and make the top smooth.
Poke a hole through top of each birdseed mold using a drinking straw, making sure it goes all the way through.
4:

Leave the birdseed mixture in the molds for two to three hours. Then, remove the straws and lay out a sheet of waxed paper. Gently remove the hardened ornaments from the mold, and place them on the wax paper upside down. Allow them to dry for at least two to three more hours, or overnight.
5:

Cut your ribbon and carefully put it through the hole.
6:

Head outside with your ornaments and find some great places to hang them for your feathered friends!