These pictures are already a couple of weeks old, but I'm posting them to give you an idea about what's been going on in the garden!
Actually, I'll start with the peas, because they are gone now. These photos date back to over a month ago (maybe more...time is really flying). While the peas grew, we LOVED them! I don't think very many pods made it to the kitchen before being broken open! The delicious, crisp green peas inside were such a wonderful treat.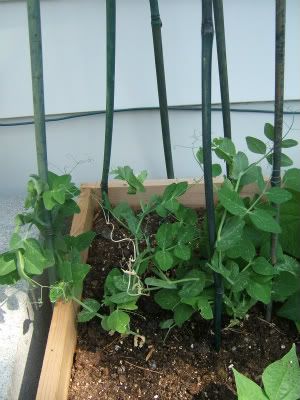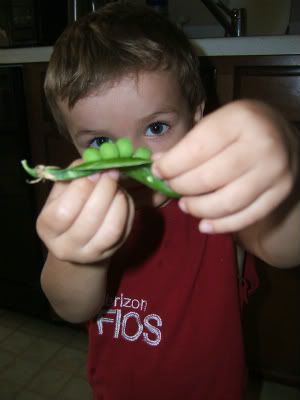 Here is a tiny new cilantro sprouting. We have already harvested two plants, and replaced each with a new seed. Cilantro is the only herb we have planted and harvested, which is a shame! We have space in front of our tomatoes of lots of herbs...we just never took the time to plant them. Note taken for future reference!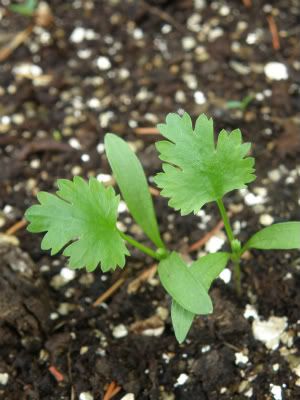 Two green peppers keep growing and growing: here are two pictures showing their growth within just a week!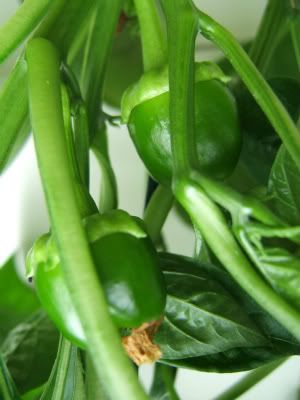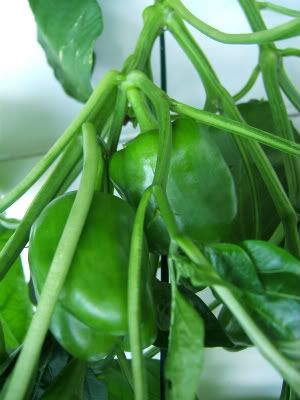 Here are our green beans, next to the now-empty pea plot (we hope to plant more peas soon as the weather cools off). The green beans have been doing very well! Each day we gather a handful of beans that are ready. We always have to taste one raw (delicious), and then save the handful in the kitchen until we've collected enough for a meal. (Next to the green beans are the kohlrabi, a vegetable we have fallen in love with from our CSA, and decided to try to grow ourselves).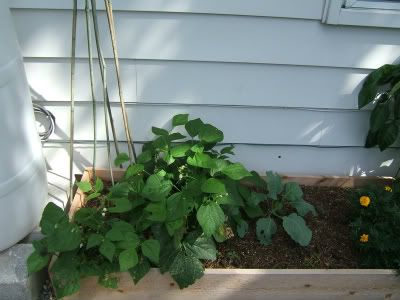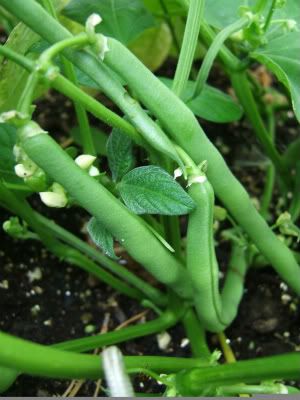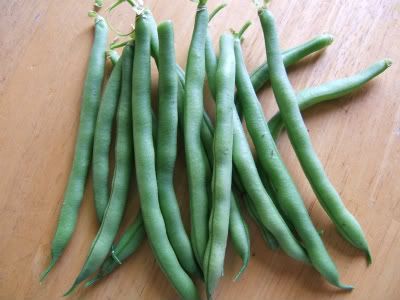 Move down a few steps and you'll find all our peppers, residing together. Green, habenero, and jalepeno.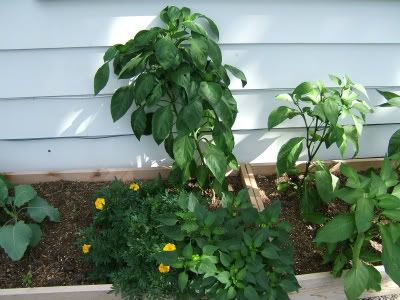 Here is the view from the end of that side of the garden, with our large pumpkin and zucchini plants taking over their section with a great zest!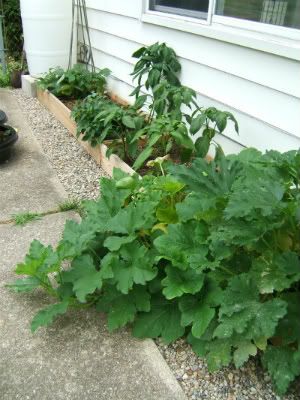 The tomatoes are the kings of the garden, and have grown much larger and fuller since this picture was taken: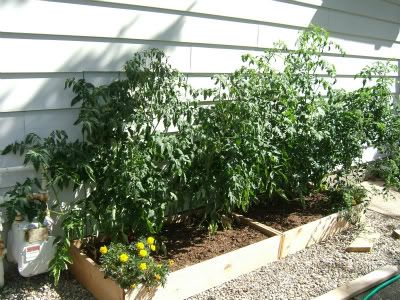 It has taken a lot of staking to keep them from collapsing. I even had to get a steel rebar to anchor one of these plants! There are some HUGE tomatoes, still green, growing on the vines. Our blossom end rot problem has really improved, just from one feeding with chicken manure, and with less frequent watering. We have 8 plants shown above, and the plant on the far right has proven to be our most prolific producer. It is a yellow pear tomato, and its fruits ripen quickly. We have had MANY of those yellow pear tomatoes as a snack, often right there next to the garden. They are about the size of a cherry tomato, look--as the name suggests--like a cute little pear, and ripen into a gorgeous golden yellow, bursting with flavor. Look for a blog post this week that will showcase this fun, tasty, and wildly successful tomato!
Two more tomato plants reside in the backyard, in the famous 'topsy turvy' planters, which we mostly decided to try out as an experiment. They started out looking like this: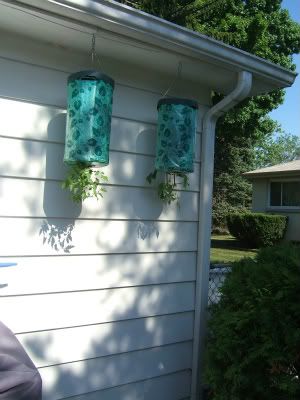 And have grown into this:
The plant on the left is a yellow pear tomato. Even though that type of tomato has been extremely successful in the garden, this topsy turvy-ed plant hasn't even produced a single blosson. Apparently it would really prefer to be right side up! The plant on the right, however (a beefsteak), is giving tomato-growing a shot: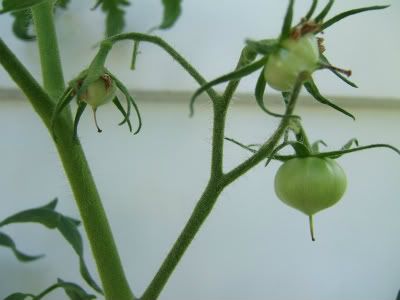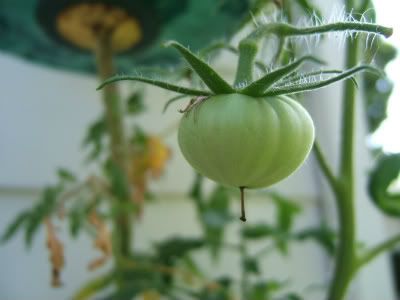 Our zucchinis gave us a good run, but appear to be finished producing fruit. Here we are with our final harvest:
In our last post, you saw our pumpkins, which continue to grow. We have been making guesses about how big those pumpkins will get, and let me just say that these kids are planning to harvest some monster pumpkins.
As summer starts to wane, we are going to start thinking about our fall planting. Spent plants will be taken out and put into our compost, and we'll make plans for new plants to take their place; plants that prefer cooler weather and will give us a continued harvest. In fact, the time to start some of those plants indoors is right now! We have a few gardening books to help guide us as we plan out our seedlings-into-the-garden schedule for fall.
However, even as we look ahead to fall planting, we still have a lot of harvesting to look forward to in the upcoming weeks. Vegetables will begin to ripen beautifully, ready for picking. It seems like every day we find a new surprise, and fuller, lusher vegetables. Never a dull day in the Little Hands Garden!