Why did we pick all these tomatoes when they are so green and so small?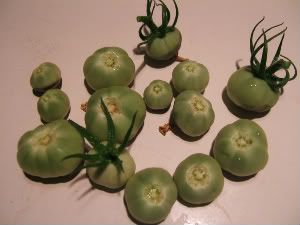 Turn them over for an unpleasant surprise:
What we have here is blossom end rot. What a disappointment! After some research, and talking to other gardeners in my life (namely, Uncle Loren), I learned that this unfortunate condition occurs for mainly two reasons:
1). Uneven watering
2). Lack of calcium in the soil
After the kids and I properly mourned our first harvest of tomatoes (for we had watched them since they first began to bubble out from their blooms and had very high hopes!), I set out to learn how to enrich the soil with more calcium. I found a lot of advice online, including feeding the plants with bonemeal, bloodmeal, and even Tums! Which makes some sense, since they are made of calcium. Eyeing the Tums container in the cabinet and wanting a quick fix, I almost followed that advice, but I just couldn't. It seems like logical advice, and perhaps we'll try it if we need to later, but for now I felt like there was just too much at stake for experiments...we really really wanted to save our tomatoes! So, I resisted the urge to head out and stuff Tums into the ground, and instead waited until I had a chance to go to the gardening center (aka Lowe's) down the street to look for something else.
Lowe's has a nice little selection of organic plant feeds and sprays, which I find encouraging. Of course, the chemical selection is 4 or 5 times bigger, and the types of promises on those chemicals' packages are quite enticing. Grow huge vegetables, eradicate any and all types of pests and diseases! I feel fortunate, however, that as a novice gardener, deciding to start out organically, I've never had a taste of the chemicals' quick fixes and I don't know what I'm missing. I am simply not interested in them.
Even in the organic section, looking at the labels carefully is important. I had my mind set on bloodmeal when I headed to Lowe's, even though the name makes me shudder. I looked at a couple different brands, both of which boasted "cow-free" blood, which I thought strange, so I looked at the ingredients: 100% porcine. How is pig blood any better? And where was this pig blood coming from? I was feeling woozy at this point, and realizing I hadn't armed myself with any of the arguments of what type of blood is better, or with any knowledge whatsover about using bloodmeal (does the blood come from CAFOs?), I looked for something entirely different. I realize the importance of bloodmeal and bonemeal to organic gardening (I have read about the use of these two morbid-sounding substances countless times in sources I fully trust), but at the moment I was feeling completely unprepared to make any decisions.
This package caught my eye (was it the giant tomato?):
The one and only ingredient? Well-composted chicken manure. Plenty of calcium, among other plant goodies like nitrogen and phosphate. In fact, the percentage of calcium in this plant food was higher than in the blood or bone meal. Score!
We fed the tomatoes by putting our fingers down into the soil around the roots to make small wells, putting a tablespoon full in each well (4 wells per plant), and smoothing it all back over. Then, of course, we gave the tomatoes a drink.
But what about that water? What is 'uneven watering'? Have we been watering the tomatoes too much, or not enough? Since we had been giving the garden a drink every single day, my instincts told me perhaps we could try watering every other day.
Since we've implemented the new watering plan, and fed the plants, we've watched for healthy tomatoes every time we enter the garden. We still see this: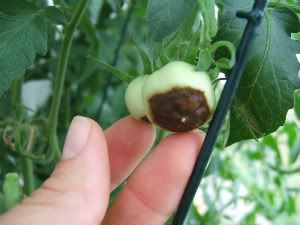 And we also see tomatoes with less severe rot: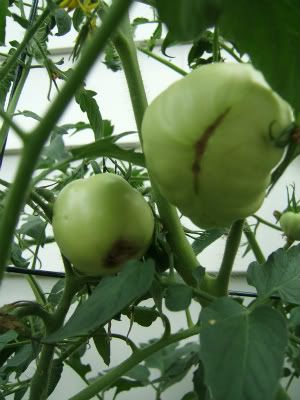 AND! We have been finding beautiful tomatoes with absolutely no blemishes whatsoever!
I think we may have hope!
Now, I do want to mention something. We had been picking those black-bottom tomatoes as soon as we spotted them and tossing them into our compost bin. I felt like the plants would be wasting energy to continue growing a bad tomato. Lately, though, we leave them alone. For one thing, blossom end rot is not a disease that will effect any other tomato or the plant itself. It is a condition that effects only that particular tomato. The plant will potentially grow unblemished tomatoes simultaneously. For another thing, those tomatoes do not have to be wasted! Once they get large and ripe, the bottoms can be cut off, and the tops will be perfectly good. Since we want as many tomatoes as possible, we thought we'd let the tomatoes grow and see for ourselves if this is good advice.
Hopefully we'll see some red, soon!