I keep forgetting to show everyone where 11 of our pea plants now live! Peek behind the big red wagon and you'll see 4 lovely pots lined up in a row: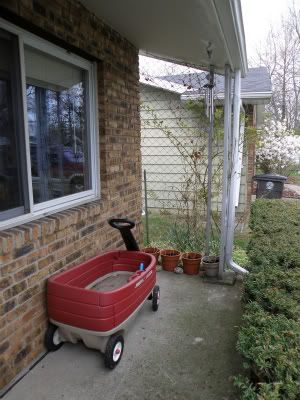 With the help of my oldest two boys, we transplanted the peas into large plastic flower pots and put them at the end of our porch. Our porch has a nice chain-link trellis at the far end, which has always been grown over with clamatis vines. Here is a photo I found online of the type of clamatis I have:
Only mine never look that full and beautiful...WOW. A couple tea-rose bushes also use the top of the trellis for a little support. Now, back to the peas.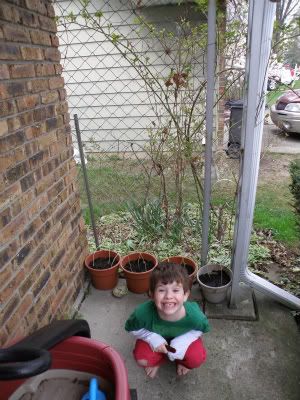 Is this spot perfect spot for some peas? We'll see! The chain link trellis could prove to be just what they need to climb on and thrive. But, I have a couple of concerns.
1) There are still a couple vines of Clamatis growing up the center of the trellis. Will the peas vine up and live happily with them, or will there be a losing fight?
2) While sunlight does come onto the porch, it is not all day. Will there be enough sunlight for the peas to survive?
The only way we are going to find out if we've found a great pea-home is to let them grow and see what happens. This is one of the fun things about learning how to garden: the EXPERIMENTING!
We have a few more pea plants (wow, those babies did good in the greenhouse, didn't they?) that we plan to place in our garden, where there is more sunlight. We can then see how they do compared to the peas in the pots.
Here are a couple shots I got during the process of getting those peas in the pots:
AND..... HERE IS THE MOST EXCITING PART! (YES, I AM YELLING!)
After just one day, we looked carefully at our pea plants, and saw tender vines already reaching out to curl around the chain link!!! So far, the peas seem to like their new home!